Step by step instructions on how to replace the cartridge of your RESPIMAT® inhaler
Cartridge replacement is straightforward. The dose indicator will let you know when you need to do this. 1

Reading the dose indicator 1

The dose indicator shows the number of remaining doses.

Yellow means there are only 10 puffs left and you will need a new cartridge soon.

Red tells you when the cartridge is used up and needs replacement.
Steps for cartridge replacement 1
1. Remove clear base
Keep the cap closed

Press the grey safety catch on the side of the RESPIMAT® inhaler while firmly pulling off the clear base with your other hand

Pull off the cartridge from the inhaler. Insert a new cartridge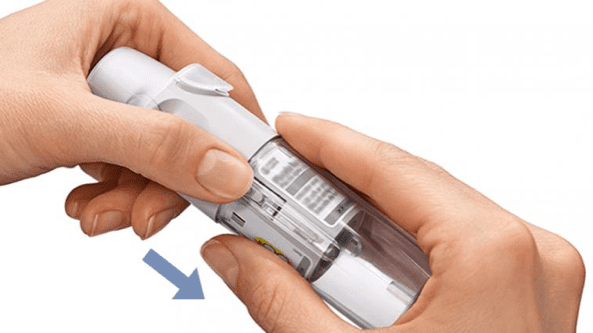 2. Insert cartridge
Insert the narrow end of the cartridge into the inhaler

Place the inhaler on a firm surface and push down firmly until it clicks into place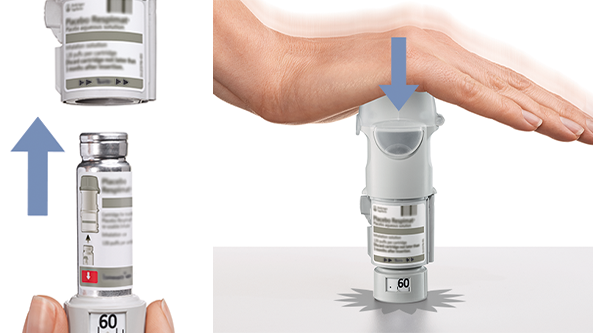 3. Track cartridge
Mark the check-box on the inhaler's label to track the number of cartridges

Put the clear base back into place until it clicks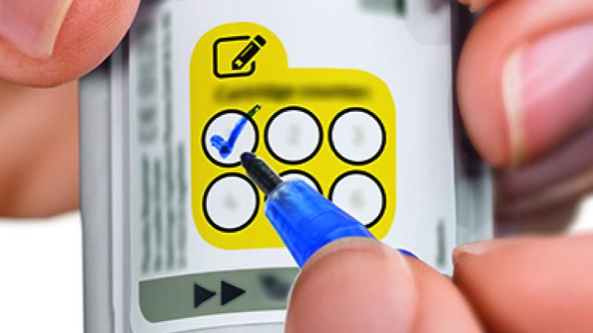 Steps for activation
Turn
Keep the cap closed

Turn the clear base in the direction of the arrows on the label until it clicks (half a turn)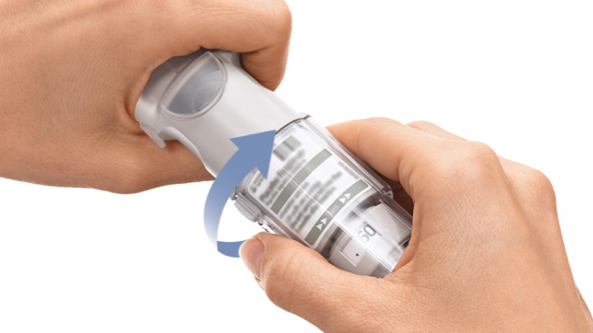 Open
Open the cap until it snaps fully open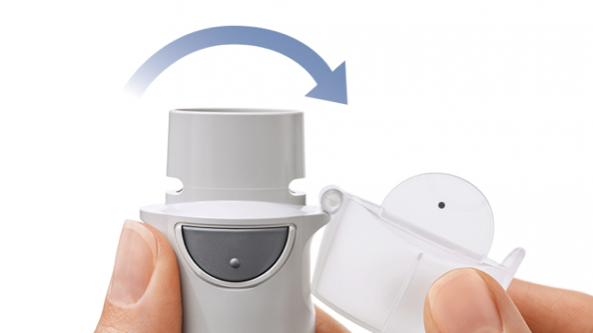 Press
Point the inhaler towards the ground

Press the dose release button

Close the cap
Repeat the Turn – Open – Press  until a cloud is visible, then repeat 3 more times

Your inhaler is now ready to use and will deliver 60 puffs (30 doses)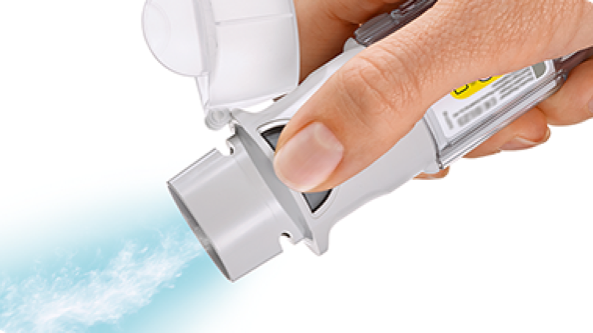 You can use up to 6 cartridges with your RESPIMAT® inhaler 1
New cartridges are available in refill packs that contain up to three cartridges.

References
Dalby RN, et al. Med Devices (Auckl). 2011;4:145-155.

Dalby R, et al. Int J Pharm. 2004;283(1-2):1-9.

Placebo RESPIMAT® Instructions for use. October 2018.

Anderson P. Int J Chron Obstruct Pulmon Dis. 2006;1(3): 251-259.